Bloody Mary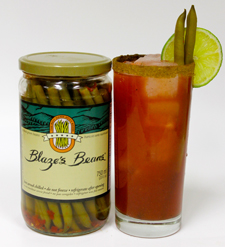 3 min total | 3 min prep | serves 2
Classic recipe
INGREDIENTS
1 Blaze's Green Beans (25 oz)
3 ounces (2 jigger) Vodka
1 Teaspoons fresh lemon juice
2 Lemon wedge
Mott's Clamato Juice
Demitri's Bloody Mary / Caesar mix
Ice cubes
Combine the vodka, Demitri's Bloody Mary / Caesar mix, the lemon juice, to taste, 1 cup ice cubes, mix all and shake well, strain it into a tall glass filled with ice cubes, Garnish the Bloody Mary with Blaze's Green Beans stick and lemon wedge.
Deep Fried Green Beans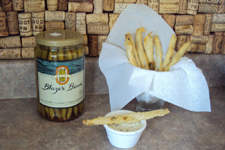 10 min total | 5 min prep | serves 4
INGREDIENTS
1 Blaze's Green Beans (25 oz)
1/2 cup buttermilk
1 cup all purpose flour
1/2 tablespoon salt
1/4 tablespoon pepper
1/4 tablespoon garlic powder
Oil for deep frying
Pat dry Blaze's Green Beans (25 oz). Mix flour, salt, pepper and garlic powder in bowl. Dip the green beans in buttermilk and then roll in the flour mixture. Deep fry until golden brown. Drain on paper towels.
Green Bean Provenzal Salad
14 min total | 14 min prep | serves 4
INGREDIENTS
1 Blaze's Green Beans (25 oz)
1 large or 2 small very tender fennel bulbs, washed and trimmed
4 small ripe tomatoes, peeled and seeded Handful of fresh chervil (1/2 teaspoon dried)
6 ounces small Mediterranean type black olives - pitted
12 -18 anchovy fillets packed in oil
3 medium sized eggs, hard boiled and quartered
1 1/2 tablespoons fresh basil (if dried, less)
Thinly slice the fennel and quarter the tomatoes; Add drain Blaze's Green Beans (25 oz), chervil and olives in a bowl. Drain the anchovy fillets and wipe them on a paper towel. Sprinkle over the salad. Add the hard boiled eggs over the salad. Sprinkle the basil over the salad. Refrigerate 2-3 hours. Top with Garlic-basil vinaigrette. Serve.
Garlic Basil Vinaigrette
INGREDIENTS
3 large cloves garlic, peeled
6-8 fresh basil leaves, washed and patted dry
1/4 cup extra virgin olive oil
3 tablespoons wine vinegar
Salt and freshly ground black pepper to taste
Smash the garlic with a heavy knife, and then smash it with the basil. Add the olive oil very slowly to make a fine paste. Add the vinegar and season with salt and pepper.
Green Beans in Sour Cream & Tomato Sauce
12 min total | 12 min prep | serves 4
INGREDIENTS
1 Blaze's Green Beans (25 oz)
4 tbsp. butter
1 large onion, halved lengthwise and thinly sliced
1 medium-sized green pepper, seeded, deribbed and chopped
2 large tomatoes, peeled, seeded and chopped
2 tbsp. finely chopped fresh basil
¾ cup sour cream
½ tbsp. salt and ½ tbsp. black pepper
In a heavy skillet, melt butter over moderate heat. Add the onion and green pepper and cook until soft, but not browned, stirring frequently. Add the tomatoes and basil and cook for 2 minutes, stirring often. Add the drain Blaze's Green Beans (25 oz), mix well and lower the heat and simmer for 2 minutes. Beat the sour cream with salt and pepper (to taste) and stir it into the vegetables gently, but thoroughly. Taste for seasoning.
Oriental Green Beans
16 min total | 6 min prep | serves 4
INGREDIENTS
1 Blaze's Green Beans (25 oz)
2 teaspoon sesame oil or vegetable oil
3 cloves garlic, minced
1 teaspoon fresh ginger, grated crushed red pepper flakes.
1 1/2 teaspoons light soy sauce
2 tablespoons water
1 teaspoon sesame seed, toasted, garnish
Steam Blaze Green Beans (25 oz) only 1 minute should them crisp. Heat the oils and saute, over low heat, the garlic& ginger until you can smell that wonderful aroma (the garlic will be golden) Add Blaze's Green Beans (25 oz) , pepper flakes, soy and water. Cover cook over high heat for a few minutes until the water evaporates and the oils have coated the Green Beans and they are hot Shake the pan as the beans cook. Garnish with sesame seed.
Asparagus and Green Beans with Tarragon Lemon Dip
15 min total | 5 min prep | serves 8
INGREDIENTS
1/2 pound frozen asparagus.
1 Blaze's Green Beans (25 oz).
½ tbsp. Salt
1 cup mayonnaise
1 cream chesse 8 oz
1 lemon, zested and juiced
1 small shallot, finely chopped
2 tablespoons chopped fresh tarragon, (4 sprigs), chopped, plus sprigs for garnish
2 tablespoons chopped parsley leaves, plus sprigs for garnish
Few grinds freshly ground black pepper
Directions
Cook asparagus spears in 1-inch of salted boiling water covered, for 3 or 4 minutes and then drain and cool, add dry Blaze's Green Beans (25 oz).,. arrange them on a serving plate. Combine the dip ingredients in a small bowl and garnish with sprigs of parsley and tarragon and set dip along side vegetables on serving dish.
Rib Steaks with Spice Rub and Blaze Green Beans
100 min total | 40 min prep | serves 4
INGREDIENTS
4 Rib steaks, at least 1 inch thick (2 to 3 pounds total)
2 teaspoons ground mustard
2 teaspoons powdered garlic
2 teaspoons kosher salt
Demitri's concentrate - 1 tablespoon per steak
1 1/2 teaspoons freshly ground black pepper
Olive oil for the steaks
1 Blaze's Green Beans (25 oz).
Directions.
In a small bowl, stir together ground mustard, powdered garlic, salt, and pepper. Coat both sides of steaks with a thin layer of spice mixture, rubbing mixture thoroughly into steaks. Let rest at room temperature for 1 hour. The rub should be almost completely absorbed by the meat, or it will burn when the steak is seared.
Heat the oven to 375°F. Coat the bottom of a large, ovenproof frying pan with enough olive oil to prevent meat from sticking. Place over high heat until the pan is very hot but the oil is not yet smoking. Using a pair of long tongs, carefully place steaks in the hot pan and sear, turning only once, until a crust forms, about 3 minutes on the first side and 2 minutes on the second.
Place the frying pan in the oven to finish cooking, 8 to 10 minutes for rare, 10 to 12 minutes for medium rare. Home cooks can insert an instant-read meat thermometer into the center of the steak; it should read 115°F to 120°F for rare, 125°F to 130°F for medium rare.
Transfer steaks to a serving platter or cutting board, and let them rest for about 10 minutes to allow the juices to redistribute. Drain Blaze's Green Beans and serve decor platter. Beverage pairing: Cabernet Sauvignon.

Or you can use Demitri's Classic Bloody Mary / Caesar concentrate - rub 2 tablespoons to each steak - let marinate for 2 hours in fridge.


Stir Fried Green Beans with Pork
20 min total | 5 min prep | serves 4
INGREDIENTS
1 Blaze's Green Beans (25 oz)
3 cloves garlic, peeled and chopped finely
2 fresh red bell pepper, cut crosswise into very thin slices
3 tablespoons vegetable oil 10 oz. lean ground pork
1/2 teaspoon paprika
1 teaspoon dark brown sugar
3 tablespoons fish sauce or salt to taste
1 1/4 cup water
Put oil into a wok and place over medium-high heat. When the oil is hot add the garlic and chilies. Stir and cook until the garlic turns golden. Add the pork, breaking up any lumps and cook until the pork has lost it's raw look. Put in paprika, brown sugar, fish sauce and 1 1/4 cups water. Cook, stirring on medium-high heat 8 minutes add drain Blaze's Green Beans (25 oz) until the beans are tender and most of the water has been absorbed.
Green Beans Almendrato
8 min total | 8 min prep | serves 4
INGREDIENTS
1 Blaze's Green Beans (25 oz)
4 oz. almonds
2 tbsp. butter
Salt and pepper
Saute almonds in butter until lightly browned; add dry Blaze's Green Beans (25 oz). Toss with almonds and season with salt and pepper before serving.
Hot Dogs!
Bean Doggin It